Mode Type:
Whole blood, Predilute, Capillary
36 Parameters:
CBC: WBC, RBC, Hb, HCT, MCV, MCH, MCHC, RDW-CV, RDW-SD, PLT, MPV, PCT, PDW-CV, PDW-SD, P-LCR, P-LCC.
DIFF: Neutrophils % & #, Lymphocytes % & #, Monocytes % & #, Eosinophils % & #, Basophils % & # *ALY % & #, *LIC % & #, *NRBC % & #, *CWBC, *NLR, RDWI & MENTZER INDEX
*Research use only
Principle of measurement:
RBC/PLT: Electrical Impedance
WBC + DIFF: Tri-angle Laser Flowcytometry
Hb: Cyanide-Free Colorimetry
MCV: Measured
HCT: Calculated
Histograms:
3 (WBC/RBC/PLT)
Scattergram:
3 (2D ), 1 (WBC/Baso)
Throughput:
upto 60 Tests/Hr
QR Code Reader:
For reading sample bar codes & QC values
Sample Volume:
Whole blood : 15 µL
Pre-diluted : 20 µL
Capillary : 20 µL
CBC Mode : 11 µL
Linearity Range:
WBC : 0 - 300 ( x 103/µL)
RBC : 0.00 – 8.50 (x 103/µL)
Hb : 0 - 25.0 (g/dL)
HCT : 0 - 67 (%)
PLT : 0 - 3000 (x 103/µL)
Calibrator:
ELite H Cal
Tri-level Controls:
Elite H5 CON L, N, H
Open Vial Stability at 2-8˚C:
16 Days
Data Storage:
100,000 Results with Graphs, 100 calibrator results, Reagent log storage for 6 months
Quality Control:
500 files with L-J graph
X-Bar Analysis
Dimension (mm):
364x498x431
Weight (Kg):
26.5
Reagents:
Erba H560 Dil
Erba H560Lyse1
Erba H560Lyse2
Elite H Clean
Interfaces:
4 USB ports (For connecting external devices including external printer) + 1 LAN Port (HL 7, TCP/IP; LIS connectivity)
Operating Environment Temperature:
15-40˚C
Humidity:
30-90%
Power Requirement:
A.C.100-240V with built-in voltage stabiliser
50/60Hz, 200VA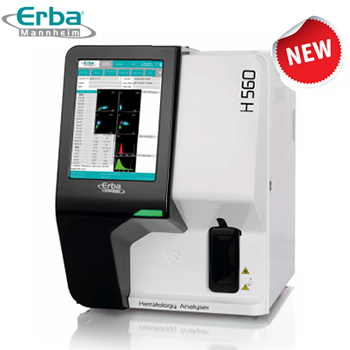 ---
Introducing the H560 cell counter machine with whole blood, predilute, and capillary mode types. This powerful machine offers 36 parameters including CBC and DIFF readings for a complete blood analysis. The H560 utilizes electrical impedance for RBC/PLT measurements, tri-angle laser flow cytometry for WBC and DIFF readings, and cyanide-free colorimetry for Hb analysis.
With histograms and scattergrams for WBC, RBC, and PLT, this machine offers accurate and detailed analysis. The H560 has a throughput of up to 60 tests per hour and a linearity range of 0-300 (x 103/µL) for WBC and 0.00-8.50 (x 103/µL) for RBC.
Additionally, the H560 offers open vial stability for up to 16 days, data storage for up to 100,000 results with graphs, 100 calibrator results, and reagent log storage for 6 months. Quality control is made easy with 500 files with L-J graphs and X-Bar analysis.
With dimensions of 364x498x431mm and weighing 26.5kg, the H560 is a compact and powerful machine. Reagents included are Erba H560 Dil, Erba H560Lyse1, Erba H560Lyse2, and Elite H Clean.
The H560 is equipped with 4 USB ports and 1 LAN port for easy connectivity and interface with external devices including printers. With an operating environment temperature of 15-40˚C and humidity of 30-90%, this machine is reliable and efficient. The H560 requires A.C.100-240V with a built-in voltage stabilizer and 50/60Hz, 200VA power requirement.
Trust the H560 cell counter machine for accurate and efficient blood analysis. Contact us today to learn more.