TECHNICAL SPECIFICATIONS
Touch Screen
8.5 inch colour touch screen
Display
600 x 800 pixel graphic display
Power
100-240 VAC 50/60 Hz 80 VA
Dimensions
337mm (D) x 273mm (W) x 422mm (H)
Weight
<8 kg
Printout
built-in, 24 column thermal printer
Operating Conditions
15-35ºC (59-95°F) / 15-90% humidity
Electronics
microprocessor controlled
Connectivity
2 x USB, RS 232, LAN
Optional Equipment
Auto Sampler
to be announced
Barcode Scanner
Sample/Patient ID,
QC Materials Data
OPERATING PARAMETERS
Parameters
Na+, K+, Ca++, Cl-
Technology
Electrochemistry, thick film biosensor cartridge
Principle
direct measurement
Sample Type
whole blood, plasma, serum,
dil. urine, aqueous sol.
Sample Volume
35 and ≥70 μL measuring modes
Sample Temperature
15–35 °C
Throughput
100 samples/hour
Analysis Time
35 sec
Data Storage
10000 samples
Data Management
fully functional QC with Levey-Jennings and Westgard rules programmable reference ranges advanced flagging Bi-directional LIS
Language/s
English & others on demand
1-point calibration
automatic 1-point calibration
with every sample
or on-demand
2-point calibration
automatic 2-point calibration
every 12 hours
or on demand
Standby Mode
automatically controlled
or user defined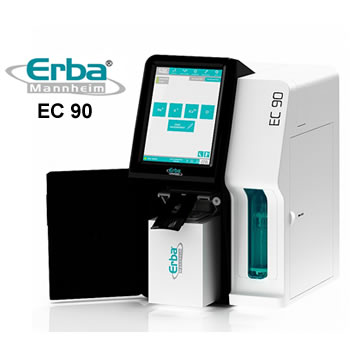 ---
introducing the incomparable Electrolyte Analyzer EC 90, the ultimate solution to all your clinical needs. This state-of-the-art machine is packed with an astounding variety of features that will leave you awe-inspired. With its high-resolution 8.5-inch color touch screen and a 600 x 800-pixel graphic display, the EC 90 is the epitome of sophistication and elegance, making it a breeze to navigate and read results. It's almost too good to be true, but believe it or not, the EC 90 weighs less than 8 kg and is only 337mm (D) x 273mm (W) x 422mm (H), making it compact, lightweight, and powerful.
The EC 90 is the jack of all trades, thanks to its built-in 24-column thermal printer and connectivity options, which include 2 x USB, RS 232, and LAN. This versatile machine is also equipped with microprocessor-controlled electronics, ensuring that it is precise and reliable. Additionally, its optional autosampler and barcode scanner provide added convenience and accuracy, making it an all-around performer.
The EC 90's electrochemistry technology and thick film biosensor cartridge enable direct measurement of parameters such as Na+, K+, Ca++, and Cl- in a variety of sample types, including whole blood, plasma, serum, dil. urine, and aqueous sol. This incredible machine boasts a sample volume of 35 and ≥70 μL measuring modes and an analysis time of 35 seconds, allowing for a throughput of up to 100 samples per hour.
This remarkable machine is also a master of data management, thanks to its fully functional QC system that includes Levey-Jennings and Westgard rules, programmable reference ranges, and advanced flagging. With a data storage capacity of up to 10,000 samples and the ability to program it in English and other languages upon request, the EC 90 is an all-in-one data management powerhouse. Its automatic 1-point calibration with every sample or on-demand, and automatic 2-point calibration every 12 hours or on-demand, ensure accuracy and consistency that is unmatched by any other machine.
The EC 90's standby mode can be automatically controlled or user-defined, ensuring efficient energy usage. Operating conditions include a temperature range of 15-35ºC (59-95°F) and a humidity range of 15-90%. With all these incredible features, investing in the Electrolyte Analyzer EC 90 for fast, accurate, and reliable results that will meet all your clinical needs is a no-brainer!