Bio Chemistry Analyzer
Brand: ERBA
Model: Chem-7
Origin: Germany
Technical specifications:
Optical Module:
Static photometer with photometric range (340-670)
8 Interference filters 340, 405, 450, 505, 546, 578, 600 and 670 n.m.
Silicon photodiode detectors
Photometric range from 0 to 3.0 OD
Quartz Halogen lamp of 12V, 20W
Measuring Module:
Unique Triple cuvette system
18 µl Flow cell
10 mm Square cuvette
6 mm Round glass tube with an adaptor
Peltier's temperature control: 20°C-40°C in steps of 1°C
Peristaltic Pump
Minimum aspiration volume 200 µl
Analysis Modes:
1-point linear
Rate A non-linear
2-point linear
1-point sample blank linear
1-point non-linear
1-point sample blank non-linear
2-point non-linear
Absorbance
Rate A linear
Coagulation
Memory:
200 User defined test programs
1000 test result
Reagent Blank
3 Levels of QC
Result Recall:
Collated Reports by Date, ID, Date & ID
Test & Date wise
Patient Demographics
Built-in QC:
Daily and monthly monitoring for 3 Levels Levy-Jennings QC graphs
Display:
High-resolution graphics LCD with backlight.
View Area: 120 x 92 mm
Keyboard: 41 Multifunction Keys and 6 dynamic keys
Printer: In built high resolution graphic thermal printer
Interface:
USB connectivity to PC
Direct printer connectivity through USB port
Port for External keyboard
Power:
External Universal SMPS adaptor 18V DC, 70W, 115/230V AC (± 10%), 50/60 Hz
Size: (mm): 205 (H) x 450 (W) x 300(D)
Weight: Approx. 7 Kgs.
Optional Accessories: External 16-Position Dry Block Incubator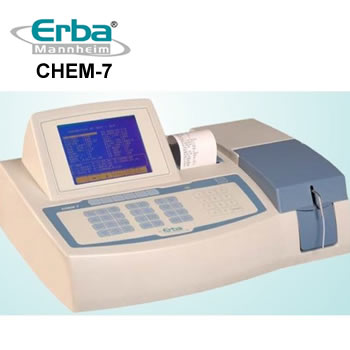 ---
Erba CHEM-7 is a comprehensive and advanced clinical chemistry analyzer that offers accurate and reliable results for a range of tests. Designed with advanced features and cutting-edge technology, it is a reliable and efficient solution for clinical laboratories seeking an all-in-one system for chemistry testing.
Features of Erba CHEM-7
Erba CHEM-7 offers a wide range of features that make it a versatile and powerful tool for clinical laboratories. These include:
High throughput: Erba CHEM-7 is capable of processing up to 400 tests per hour, making it a fast and efficient solution for high-volume laboratories.