TECHNICAL SPECIFICATIONS
| | |
| --- | --- |
| Brand | Mindray |
| Application | Hospital, Diagnostic |
| Model | DC-60 Exp |
| Place of Origin: | Guangdong, China (Mainland) |
| Certification | CE ISO FDA |
| Imaging modes: | B/M/Color/Color/3D/4D/M/Power/Directional Power Doppler Flow Imaging |
| Touch Screen | 13.3 inch |
| Monitor | 21.5 inch |
| Transducer port | 4 active |
| Speckle Reduction | Available- iClear™ |
| Harmonic Imaging | Available- PSH™ |
| Compound Imaging | Available- iBeam |
| Auto Image Optimization | Available- iTouch™ |
| Full Screen View | Available- iZoom™ |
| Hard Disc | 1 TB |
| DVD Writer | Available |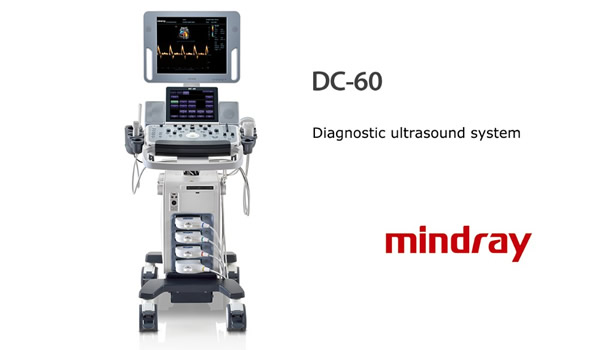 ---
The DC-60 Exp features a large 13.3-inch touchscreen and a 21.5-inch monitor for a clear and detailed image display. It also has 4 active transducer ports, allowing for greater flexibility and efficiency during exams.
To ensure optimal image quality, the DC-60 Exp is equipped with a range of imaging technologies such as speckle reduction (iClear), harmonic imaging (PSH), and compound imaging (iBeam). It also features automatic image optimization (iTouch) and full-screen view (iZoom) capabilities for a more user-friendly experience.
With a 1 TB hard disc and available DVD writer, the DC-60 Exp provides ample storage for patient data and imaging records. It is also certified by CE, ISO, and FDA, ensuring the highest level of safety and quality standards.
Whether used for abdominal, obstetrical, gynecological, cardiac, small parts, urological, or vascular applications, the Mindray DC-60 Exp is a reliable and efficient choice for healthcare professionals seeking the latest in ultrasound technology.