4D Color Doppler Ultrasound Machine
Brand: Mindray
Model:DC-40 Crystal (21''FULL HD MONITOR)
Origin: China
Convex Probe
This wide-band, multi-frequency Convex Array probe with supports the following applications: abdominal, aorto-iliac, fetal heart, obstetrics, pelvic, and renal.
TVS PROBE
LINEAR PROBE
Cardiac probe

System Heiligits :
Display
21.5" HD led Monitor
13.3 inc full HD Led Touch Screen
Tilt and rotate adjustable
Height adjustable support arm
Broadband multifrequency imaging
2D, 3D, and 4D

Image Processing :
phase shift harmonic imaging
tissue harmonic imaging
I-beam special compound imaging
iclear adaptive speckle suppression imaging
i zoom automatically expand the image optimization
Thyroid with ibeam
User Interface :
alphanumeric QWERTY Keyboard with LED Backlight
Multi function knobs
Trackball for easy operation and navigation
8 Segment TGC
Application Specific Calculations :
Dedicated software package:
Abdominal, Obstetrical, Gynecological, Cardiac, small parts,
Urological, vascular package.
Intelligent workflow/storage/Review:
istation:
intelligent patient data management platform with integrated search engine for patient data.
intelligent data backup /restore
built in DVD-R/W

TERMS AND CONDITIONS:
1. Warranty : 12 Months
2. Installation: Free of cost
3. Delivery Time: Within 7 day after confirmation of work order.
4. After sales service: Within the warranty period, free of cost.
5. Payment: By A/C Payee Chquee or Cash.
6. With outt vat & tax.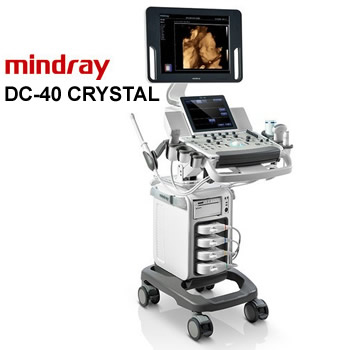 ---
Introducing the Mindray DC-40 Crystal 4D Color Doppler Ultrasound Machine with a 21" Full HD monitor - the perfect solution for your medical imaging needs. This high-quality system is equipped with a wide-band, multi-frequency Convex Array probe that supports various applications, including abdominal, aorto-iliac, fetal heart, obstetrics, pelvic, and renal scans. The machine also features TVS, Linear, and Cardiac probes to cater to all your ultrasound imaging needs.
Experience crystal clear imaging with the system's 2D, 3D, and 4D imaging capabilities, backed by advanced image processing technologies like phase shift harmonic imaging, tissue harmonic imaging, I-beam special compound imaging, iclear adaptive speckle suppression imaging, and i-zoom that automatically optimizes images for better visualization. The machine also comes equipped with a thyroid with I-beam and an 8-segment TGC for accurate and detailed scans.
The DC-40 Crystal boasts an intuitive user interface with a full HD 13.3-inch touch screen and a broad range of user-friendly features like an alphanumeric QWERTY keyboard with LED backlight, multi-function knobs, and a trackball for easy operation and navigation. Its iStation intelligent patient data management platform allows for easy data storage, retrieval, and review, complete with an integrated search engine for quick and hassle-free access.
Rest easy knowing your machine is backed by a 12-month warranty and free installation service. Delivery within seven days of confirmation of the work order, and after-sales service within the warranty period is also free of cost. Payment can be made by A/C Payee Cheque or Cash, without VAT and tax.
Invest in the Mindray DC-40 Crystal for exceptional imaging performance, intelligent workflow, and unmatched value.