Product Specification
| | |
| --- | --- |
| Brand | Mindray |
| Number Of Parameters | 25 Reportable Parameters |
| Chamber Type | Double Chamber |
| Model Name/Number | BC 5130 |
| Differential Type | 5-Part |
| Display Type | 10.4 inch TFT Touch Screen |
| Application | Hospital |
| Throughput | 60 samples per hour |
| Operating Voltage | 100V-240V |
| Weight | 24kg |
| Dimension | d400mm x w320mm x h410mm |
| Humidity | 20%~85% |
| Frequency | 50Hz/60Hz |
| Air pressure | 70kPa - 106kPa |
| Temperature | 10 ~30 Deg C |
| Multi language | Chinese, English, Spanish, Portuguese, Russian, French, Bahasa Indonesia |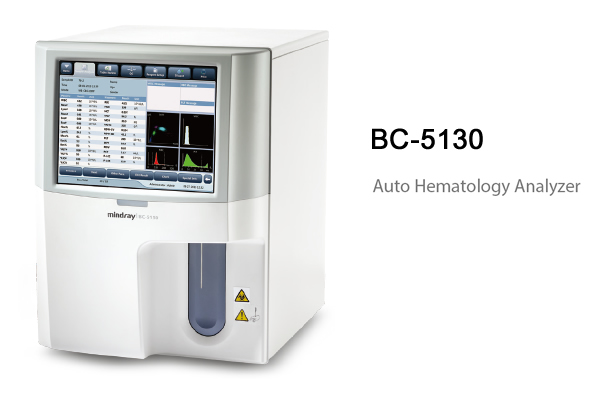 ---
The BC-5130 is a high-quality, 5-part differential cell counter machine designed for hospital use. With a double chamber and the ability to report 25 parameters, this machine can quickly and accurately analyze blood samples with a throughput of 60 samples per hour. Additionally, the BC-5130 is equipped with advanced features such as air pressure and temperature regulation, and a humidity range of 20% to 85%. This machine has a weight of 24kg and dimensions of d400mm x w320mm x h410mm, making it a reliable and efficient addition to any hospital laboratory.
The BC-5130 cell counter machine is a highly reliable and accurate instrument designed for use in hospitals and clinical laboratories. Its advanced double chamber technology enables the analysis of 5-part differential blood count parameters, delivering highly accurate and reliable results.
With a throughput of 60 samples per hour, the BC-5130 offers fast and efficient testing capabilities, saving time and resources for laboratories. Its 10.4-inch TFT touchscreen display provides clear and easy-to-read data and results, making it user-friendly for laboratory staff.
The BC-5130 offers a wide range of reportable parameters, with a total of 25 parameters that can be reported.
This cell counter machine operates at a wide range of ambient temperatures (10-30 Deg C) and is equipped with a multi-functional control system that includes automatic calibration, automatic cleaning, and automatic standby features. The BC-5130 also comes with a built-in printer, allowing for easy printing of test results.
With its advanced technology, user-friendly design, and reliable performance, the BC-5130 cell counter machine is an ideal solution for hospitals and clinical laboratories seeking a reliable and efficient instrument for cell counting and blood analysis.